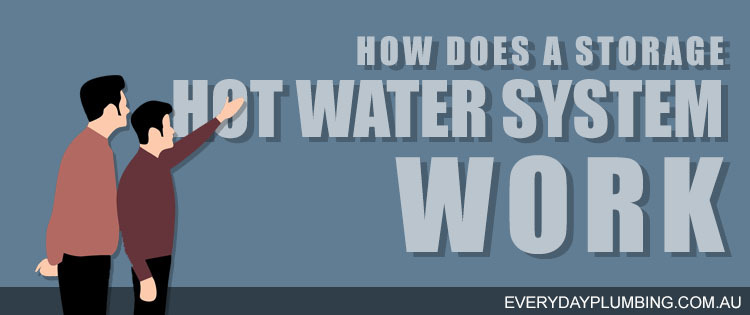 How does a storage hot water system work
This is one of the most common systems found in Australian households. Their simplistic design and the ability to be powered by either electricity or gas makes them an easy choice for homeowners. Ease of use and fairly easy to maintain although these systems aren't as perfect as they seem.
Storage tank hot water system
Types of systems
Storage hot water systems come in two types, one being electrically heated and the other; gas heated. When deciding on which system will better suit your home you must first establish whether there is gas already present on the property. It's no big deal if there isn't, it will just have an additional cost to have the gas fed to your home.
In order to determine what size hot water system you will need please refer to the below table.
| | | | |
| --- | --- | --- | --- |
| Family Size | Demand | Electric Usage/Litres | Gas Usage/Litres |
| 5+ People | High | 120/450 | 60-75/227-28 |
| 5+ People | Regular/Low | 80/284 | 50/189 |
| 3-4 People | High | 80/284 | 50-60/189-227 |
| 3-4 People | Regular/Low | 50/182 | 40/151 |
| 2-3 People | High | 50/182 | 50/189 |
| 2-3 People | Regular/Low | 50/182 | 40/151 |
| 1-2 People | High | 50/182 | 40/151 |
Please Note: The above table is to be used as a guide only and you should always consult with your local plumber or hot water expert before making your purchase.
How they work
Both systems work relatively the same way. The water is brought into the tank and heated by either elements located in or around the tank, or by a burner located at the bottom of the tank. The water is kept at a constant >60°C to help stop the growth of Legionella as well as being readily available when you need hot water.
Inside diagram of an electric storage tank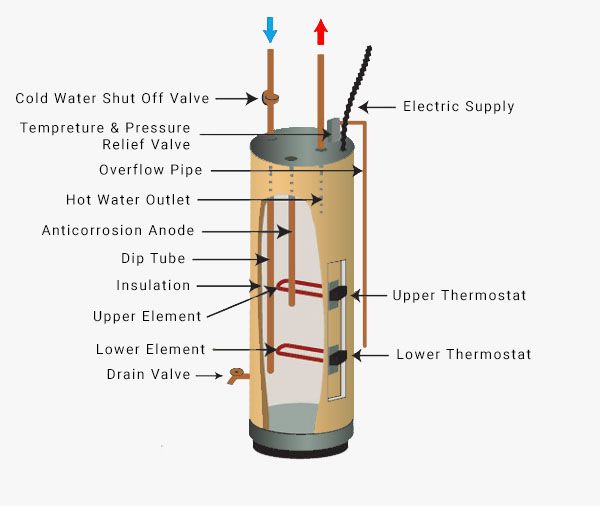 Inside diagram of a gas storage tank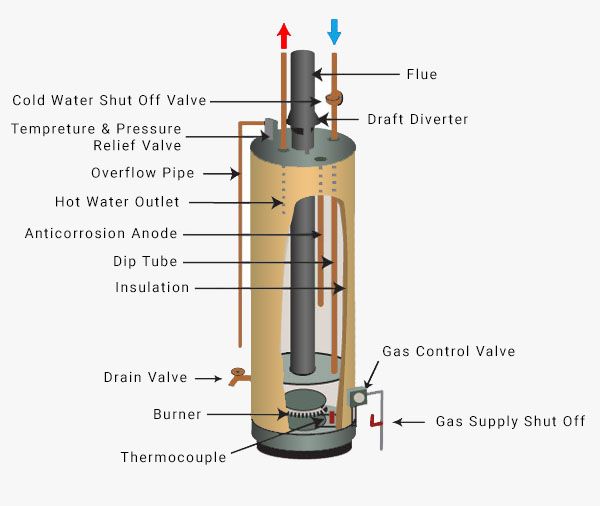 Pros and cons of storage tanks
Pros first
Storage tanks are able to give you hot water faster than other hot water systems
The temperature of the water is constantly maintained whilst using the water
Low upfront cost compared to other hot water systems on the market
Some systems can be set to off-peak periods to help reduce energy consumption
Now cons
Once out of hot water you will have to wait a while before it heats up again. Running out of hot water will usually happen whilst you are in the shower.
These systems will require maintenance especially to keep an eye on the anode.
Storage tank hot water systems take up a considerable amount of room compared to some other system types.
Electric hot water systems are almost always the most expensive compared to other systems.
The cost to run your system will fluctuate based on the price of electricity per kW or gas per Mj.
More information on hot water systems
If you would like more information on storage tanks please feel free to send us a message through our contact form. If you would like to know how we can help to install a storage tank into your home then give us a call today on 9191 7309 or alternatively you can fill in our online booking form here and one of our friendly staff will get back to you as soon as possible.