Practical, effective drain plumbers in Sydney
There are very few things that are worse than a blocked drain in your home. When your drains become blocked it can make a massive mess, not just in your home but also in your time schedule. Everyday Plumbing understands this and endeavours to have your drains cleared and back to normal working order as fast and as soon as possible.
Our team of experienced drain plumbers are on call to ensure prompt response to all backyard drainage problems, clogged drains, and stormwater issues in the southern and central Sydney region.
Professional drain clearing methods
Sometimes a blocked drain is as simple as a backlog of hair and soap scum usually from the shower. But often you don't know until a plumbing inspection and assessment are carried out. Everyday Plumbing is able to diagnose your blockage and clear it using various different tools. In our 10 years of experience, there is no blockage that we haven't beaten or cleared. Here are a few methods our plumbers use to remove even the most stubborn blocked drain.

Drain Camera

Water Jetter

Drain Snake (Auger)

Plunger
Using pipe relining for blocked drain repairs
Every blocked drain is different, some are caused by things like a build of soap scum and hair from the shower and the bath whilst others are a result of mother nature or poor installation.
If you find you have blocked drains developing in a new home this could be due to improper installation of the pipes. If the pipes are easily accessible they can be dug up and realigned, however, if they are in more hard to reach locations like under the slab or under the house, the project gets a bit more involved. Not to worry as you can have pipe relining carried out to smooth out the faults which actually strengthen the pipe. This extra strength comes from the layer of resin that is inserted into your pre-existing pipe and left to harden. Once hardened the newly relined pipe will be 2 to 3 times as strong as the original pipe.
If your home is old and you have a blocked drain this could either be due to a build-up of debris or more commonly due to root intrusion, collapse or misaligning pipes. We can also reline these pipes, giving them new life and removing the need to dig up your yard or slab to carry out repairs.
Surface and Sub-Surface Drain Plumbers
Our drainage solutions are designed to fix surface and sub-surface drainage issues so that they stop draining problems for good. You don't want to spend thousands of pounds on repairing or replacing damaged structures every few years – our professional drain repair services are designed with long term results in mind at an affordable price.
We provide installation, repairs and maintenance of:
Swale
Spoon drains
Rain gardens
Creek beds
Downpipes and sump pump discharge
Dry well
Aggi drains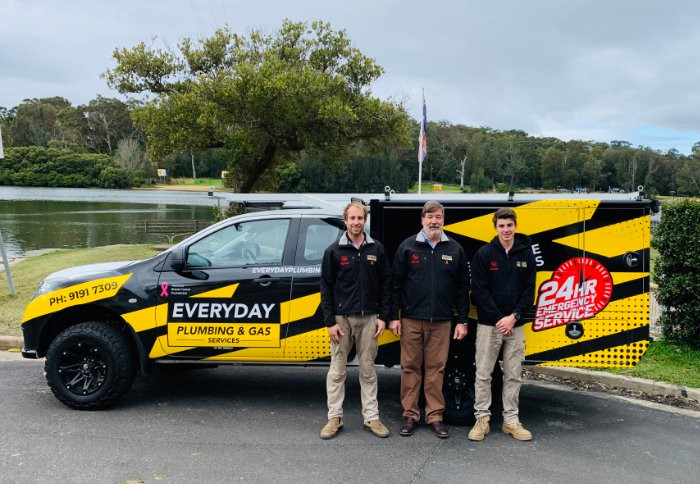 Everyday Plumbing your local Sydney drainage plumbers
If you have a blocked drain then you need Everyday Plumbing. Our drain experts undergo regular update training in order to stay on top of the industry with procedures as well as technology. We are all fully insured and have over 10 years of experience in both plumbing and unblocking drains. Why settle for less when Everyday Plumbing is Sydney's best plumbing and drain specialists.
Complete drainage solutions in Sydney
If you would like to find out how we can help you with your drainage give us a call today on 0406 400 200 or alternatively you can request a quote with our online blocked drain clearing request form.
Looking for more than a Drainage Solutions in Sydney?
We provide a range of other services in Sydney such as Plumber, Gas Fitter, Pool Compliance, Hot Water,
Suburbs our Plumbers Service in Sydney
Alexandria
Barangaroo
Beaconsfield
Centennial Park
Chippendale
Darlinghurst
Darlington
Dawes Point
Elizabeth Bay
Erskineville
Eveleigh
Forest Lodge
Glebe
Haymarket
Millers Point
Moore Park
Paddington
Potts Point
Pyrmont
Redfern
Rosebery
Rushcutters Bay
Surry Hills
Sydney CBD
The Rocks
Ultimo
Waterloo
Woolloomooloo
Zetland
Frequently Asked Questions about Plumbers
Water Jetter vs Drain Snake
What are the advantages of pipe relining?
What are the common causes of blocked drains?