Need a reliable drain plumber in Liverpool?
There is no worse feeling than encountering a completely clogged drain. From the bad smell to the risk of flooding, or not being able to use essential plumbing systems in your home like the toilet or sink, blocked drains can be a nightmare. Thankfully your local Liverpool drain plumbing specialists are only a phone call or click away. The Everyday Plumbing team are on hand to respond quickly to your drain problems providing prompt, effective drainage solutions throughout the Liverpool region.
What causes clogged drains?
Blocked drains can happen when you least expect it and due to a variety of different reasons. One of the most common is a build-up and backlog of soap scum and hair or grease, oil and fat. This type of blockage is slow and can be prevented by removing any hair around the drain grate after each shower or avoiding disposing of cooking waste down the drain.
Sometimes blocked drains can develop from causes which are out of your control such as earth movement causing the pipes to shift and break or tree roots finding their way into the pipe. Whatever the reason for your blocked drain is, you need a specialist that can help. Our plumbers have over 10 years experience in diagnosing and removing drain blockages.
Repairing damaged drains with pipe relining
In some cases, in order to prevent the same blockages from arising, again and again, it is easier and safer to have your pipe relined. This has many more benefits than replacing the original pipe, such as not needing to dig up your yard or slab. Once pipe relining has been carried out your existing pipes will be stronger than ever.
When you are getting your drains unblocked feel free to ask our plumbers about the many benefits you get from having your pipes relined. If you would like to know more now you can give us a call on 0406 400 200. One of our friendly staff will be happy to answer any questions you may have as well as schedule an appointment.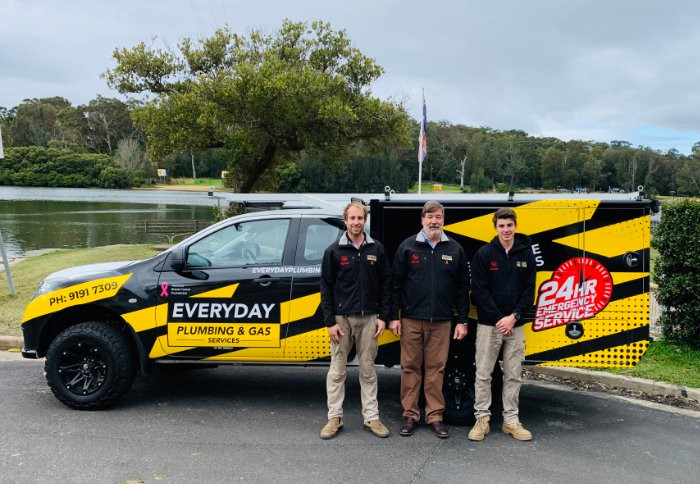 Surface and Sub-Surface Drain Plumbers
Our drainage solutions are designed to fix surface and sub-surface drainage issues so that they stop draining problems for good. You don't want to spend thousands of pounds on repairing or replacing damaged structures every few years – our professional drain repair services are designed with long term results in mind at an affordable price.
We provide installation, repairs and maintenance of:
Swale
Spoon drains
Rain gardens
Creek beds
Downpipes and sump pump discharge
Dry well
Aggi drains
Why use the Everyday Plumbing team?
Here at Everyday Plumbing, we understand that what keeps us in business is your business. It is with this that we hold ourselves to a high standard of professionalism and require that all of our plumbers undergo regular training in order to stay on top of industry changes and technology. This way you can rest assured that when you get a plumber from us that you will be getting not only experience but also a wealth of knowledge.
Your local drain specialists servicing Liverpool
We have been servicing the City of Liverpool and the surrounding suburbs for over 10 years. Our plumbers cover both residential and commercial blocked drains. If you live in the Liverpool region and have a blocked drain then Everyday Plumbing should be your first call.
We also offer these services in your area:
Drain plumbers servicing the whole Liverpool region
If you are unsure if you fall into the Liverpool region please refer to the map below. If you are still unsure please feel free to contact us on 0406 400 200 and we will be more than happy to let you know if we currently do or even can service your suburb.
Can't see your suburb?
If you live in the Liverpool region and can't see your suburb in the list below, not a problem. Simply give us a call on 0406 400 200 and speak to one of our team members about how we can assist you in your suburb.
Looking for more than a Drainage Solutions in Liverpool?
We provide a range of other services in Liverpool such as Plumber, Gas Fitter, Pool Compliance, Hot Water,
Suburbs our Plumbers Service in Liverpool
Chipping Norton
Hammondville
Holsworthy
Moorebank
Pleasure Point
Voyager Point
Wattle Grove
Frequently Asked Questions about Plumbers
How to clear a blocked drain
Water Jetter vs Drain Snake
What are the advantages of pipe relining?