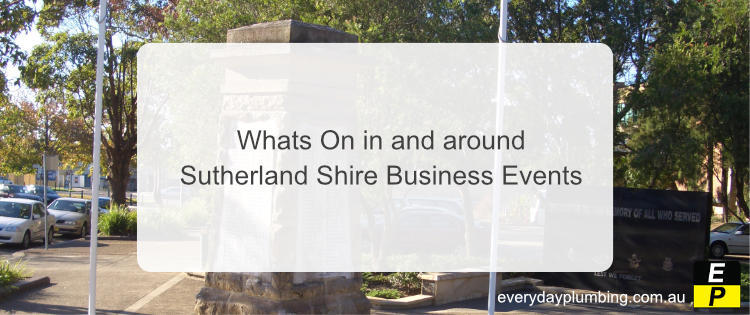 Sutherland Shire Business Events
Being a Sutherland Plumber, we're always interested in what's going on around the shire. So if you are wanting to network with other like minded businesses in the Sutherland Shire area, there are quite a few regular events you may be interested in and we have outlined some of the best here:
Sutherland Shire Business Events
Sutherland Shire and surrounds also host a decent amount of one off events designed for knowledge, business networking and basically just helping your business grow. Some upcoming events we have found are listed right here:
Practical tools for boosting your productivity webinar
Mon, Nov 18 12-1pm You'll leave the session with some practical tools to boost your productivity, reduce your stress-levels and ultimately make things happen in your work and life.
Tues Nov 19 1-5pm. Whether you are in the process of starting a new venture or simply have an idea and don't know what to do next, this workshop is sure to provide you with everything you need to know to setup your new business and hit the ground running.
Thurs, Nov 21 8am-12pm The all in one workshop! Covering everything you need to know about your social and brand presence and getting organised.
Business invite - white ribbon walk
Fri, Nov 22 1030am Don Lucas Reserve. The Sutherland Shire White Ribbon Walk Committee would like to extend an invite to you and your employees to join us for a sunny walk to raise awareness for domestic abuse within the local area.
Realise business - productivity ninja
Fri, Dec 4 12-1pm. Free webinar series Practical Tools to Boost Your Productivity. Are you struggling to get everything done? Feeling stressed and overwhelmed? Work life balance is just something you hear about? Then it's time you became a Productivity Ninja!
Small business workshops (Cronulla) - ATO and SSC
From now to the end of December 2019 - Sutherland Shire Council has partnered with The ATO to facilitate FREE workshops being held in Cronulla (Cronulla Central Hall) for local businesses. The hands on events will help you to use the ATO online tools, ATO resources, ask questions and network with other local businesses. Topics include:
Tax Essentials for Small business - Wed Nov13th 12pm, Wed Dec 11 12pm
Record Keeping for small business (GST registered) - Wed Nov 27 12pm
For more local business orientated events in Sutherland Shire, make sure you checkout the Sutherland Shire Event page: https://www.sutherlandshire.nsw.gov.au/Business/Business-Events