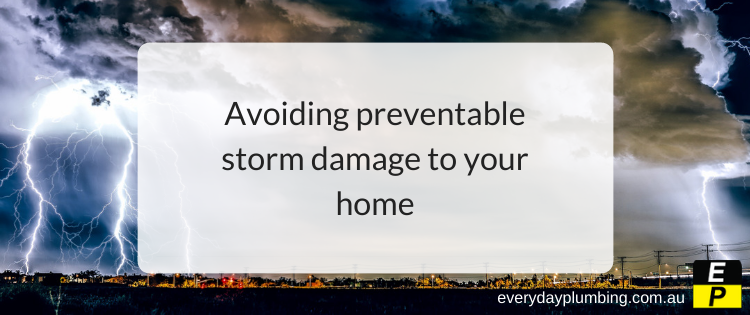 Avoiding preventable storm damage to your home
The mid-January super sell which carved a path of destruction through the Sutherland Shire area with lightning, hail, strong winds and heavy rain caught many by surprise with SES units responding to 783 calls for help over the following days.
Of course, many of the calls were for unforeseeable issues like fallen trees, power outs, and wind damage to rooves, however, some were more preventable like water damage and flooding due to overflowing drains and gutters.
The Everyday Plumbing team advise our customers across the area to get ready for storms during the dry periods by carrying out a few routine home and plumbing maintenance jobs around their properties.
Keep gutters clear and rooves free of leaves and debris. Even if you have a version of gutter guard fitted regularly removing build-up debris allows any rain to move quickly down gutters and drainpipes avoiding water damage due to water flowing back under the roof.
Trim branches which hang over buildings, driveways, and roads regularly to minimise damage in high winds.
Maintain a clear area around downpipes and storm drains to prevent garden debris and dirt being washed down drains causing blockages and to permit surface water to flow away from the house or building.
Ensure the roof and gutters are in good condition and that any maintenance is carried out promptly. Pay particular attention to skylights, flashing, Even small leaks or loose tiles can very quickly become large problems in a storm.
After the storm
After a large storm like the ones recently experienced across Sydney all of these tasks need to be rechecked.
If your home or building has sustained storm damage take lots of photos before starting the clean up to help with any insurance claims required. Make a comprehensive list of any repairs needed and items which need replacing.
Be very careful around electrical systems after a storm. If your home has water damage or flooding ensure you contact a licenced electrician to check everything is safe and to carry out any repairs needed before you touch anything electrical in your home.
Look out for signs of water damage to ceilings. Even a small patch of damp in the ceiling can indicate larger issues are developing in the roof space.
Ask your plumber to carry out a drain inspection to ensure drains are clear when it rains again.
Caution needs to be used if you suspect (or know) that asbestos has been used in areas of your home which have been impaired.
Protecting your home as much as possible by carrying out preventative plumbing maintenance can help reduce the extent of the damage affected by large storms. Don't wait till it starts to rain again, call your local plumber today.
Ref - https://www.qbe.com/au/news/what-to-do-after-a-storm, https://www.theleader.com.au/story/6588658/updated-32m-damage-bill-from-shire-storm-catastrophe/