Blocked Drains Canterbury Bankstown
We can clear your blocked drain fast
There are very few things that are worse than a blocked drain in your home. When your drains become blocked it can make a massive mess, not just in your home but also in your time schedule. Everyday Plumbing understands this and endeavours to have your drains cleared and back to normal working order as fast and as soon as possible.
Book a Blocked Drains Specialist
Drain clearing tools
Sometimes a blocked drain is as simple as a backlog of hair and soap scum usually from the shower. Everyday Plumbing is able to diagnose your blockage and clear it using various different tools. In our 10 years of experience, there is no blockage that we haven't beaten or cleared. Find out how we can help you today.

Drain Camera

Water Jetter

Drain Snake (Auger)

Plunger
Pipe relining
Every blocked drain is different some are from a build of soap scum and hair from the shower and the bath whilst others are a result of mother nature or poor installation.
If your home is new and you find you have a blocked drain this could be due to improper installation of the pipes. Not to worry as you can have pipe reling carried out which actually strengthens the pipe. This extra strength comes from the layer of resin that is inserted into your pre-existing pipe and left to harden. Once hardened the new relined pipe will be 2 to 3 times as strong as the original pipe.
If your home is old and you have a blocked drain this could either be due to a build up or more commonly due to root intrusion, collapse or misaligning pipes. We can also reline these pipes giving them new life and removing the need to have to dig up your yard or slab in order to swap it out.
Everyday Plumbing your local plumbers
If you have a blocked drain then you need Everyday Plumbing. Our drain experts undergo regular update training in order to stay on top of the industry with procedures as well as technology. We are all fully insured and have over 10 years experience in both plumbing and unblocking drains. Why settle for less when Everyday Plumbing is Canterbury Bankstown's best plumbing and drain specialists.
Clearing blocked drains in the Canterbury Bankstown region
The Canterbury Bankstown region spans over many different suburbs. Below we have an outlined of the region for your convenience and listed our most common service suburbs.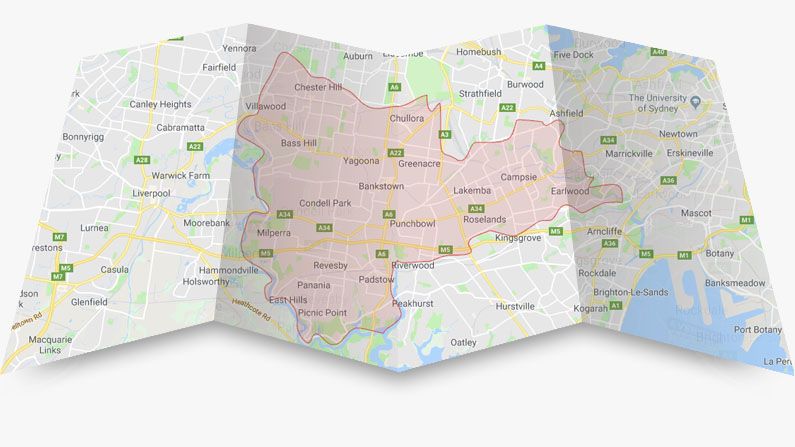 If you would like to find out how we can help you with your blocked drain give us a call today on 1300 520 898 or alternatively you can request a quote with our online quote request form.
We can help with your blocked drains issues in Canterbury Bankstown.
Not just in Canterbury bankstown