Is your home water efficient?
Water is a limited resource in Australia. With the growth in population and housing the need and price for water continues to rise. Ensuring that your home is water efficient can help to keep your water bills as low as they can be. You probably wouldn't be suprised to know that there is still a lot of homes that aren't water efficient or are only partially efficient. Make the switch today and make sure that your home complies to the latest standards in water efficiency.
BOOK A PLUMBER TODAY
Call us at 0406 400 200 or fill out the form and we will get in touch with you as soon as possible.
What does water efficient mean
Water efficient or water efficiency is a term used to describe water being restricted dependant on its particular purpose. By restricting the amount of water used you are in effect also reducing the amount of water wasted. This is done by means of measurement. For example: restricting a shower head to only allow 9 litres of water per minute as opposed to a standard non water efficient shower head that allows 12-16 litres per minute.
Water efficient devices
One of the most commonly known water efficient devices are new shower heads. Water efficient shower heads are easily upgradable from the old type and you hardly notice that you are using less water. You can also get water efficient cold water taps and single mixer taps for kitchen sinks and bathroom hand basins.
When it comes to water efficient appliances and amenities the Government introduced the Water Efficiency Labelling and Standards (WELS) scheme. This scheme is applied to appliances and amenities that use water or consume water, to show consumers how much they use and how water efficient they are. To read more on the WELS scheme visit www.waterrating.gov.au .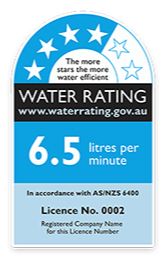 Home water consumption
When it comes to being water efficient sometimes it also helps to know what consumes water that you are paying for. Below graph indicates the average household usage of water, based on a recent study of water consumption in Australian homes.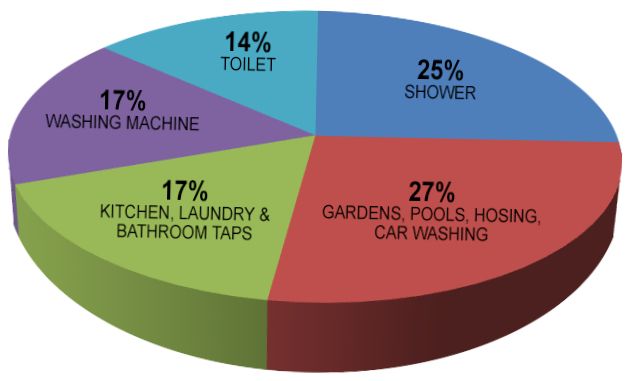 Please note: The above graph is based on average and may not correctly represent your home.
Benefits of water efficiency
By ensuring that your home is water efficient you are keeping your water bills down a much as possible. One of the main positives to ensuring your home is water efficient is being able to pass on the water charges to your tennants.
Passing on charges
In order to fully pass on the water charges onto your tennants you need to meet a minimum criteria listed below.
Your premise must be individually metered.
Forwarded charges mustn't exceed the amount on your water bill.
Your premise must at least meet the minimum water efficiency standards
Water efficiency standards
| | |
| --- | --- |
| Water efficient devices | Minimum water efficiency standard required |
| Internal cold water taps and single mixer taps for kitchen sinks and bathroom hand basins | A maximum flow rate of 9 litres per minute |
| Showerheads | A maximum flow rate of 9 litres per minute |
| No leaking taps | No leaking taps anywhere on the premises at the start of the tenancy or when the other water efficiency measures are installed |
Water efficiency and passing on water charges pleast visit www.fairtrading.nsw.gov.au .
How Everyday Plumbing can help
We can help you to get your home completely water efficient from taps and mixers to shower heads and lavatory systems. Our team can talk you through what you need and can install and plumb anything in that you need to make your home or business water efficient and start your journey to cutting your water bills. Give us a call on 0406 400 200 or if you prefer a land line 9191 7309 alternatively if calling isn't your thing you can fill in our online booking form and we'll get in touch at a time that suits you.
Frequently Asked Questions about plumbers
What Are The Different Types Of Plumbers?
What are the most common causes of plumbing leaks?
What is a Notice of Work?