Your local gas hot water specialists Sutherland Shire & Sydney
If you are sick of running out of hot water and frustrated at paying high power bills, installing a gas hot water system can help. Not only will you have constant hot water you will also slash the price of your electricity bill. There are numerous different gas hot water systems available to suit your home hot water needs.
BOOK A GAS HOT WATER SPECIALIST
Call us at 0406 400 200 or fill out the form and we will get in touch with you as soon as possible.
Benefits of a Gas Hot Water Systems
The benefits of a gas hot water system stretch further than just saving money on your future power bills, you will also be helping the environment. Gas hot water systems are extremely energy efficient as they will only heat water as you need it. Gas burns hot and very cleanly so there are very few emissions produced. As a result, the air is cleaner and less polluted. Some gas hot water systems are up to 95% efficient when burning so only 5% of the gas reaches the air.
The cost-effectiveness of running a gas hot water system over electric speaks for itself. With the rise in electricity prices, more and more people are switching to gas hot water systems. Using Rheem's hot water running cost calculator we have established that an Electric Water Heater can cost on average $1022.84 to run per year compared to a 6 Star Gas Continuous Flow which can cost on average $582.17 per year to run. That's a massive saving of 43%.
When it comes to big families everyone knows what it is like to be the last to have a shower, only to finally get in there and all the hot water is gone. Switching to a gas hot water system can remove this problem as the heating times for a gas system can be anywhere from 30mins to instantaneous depending on which type of system you install.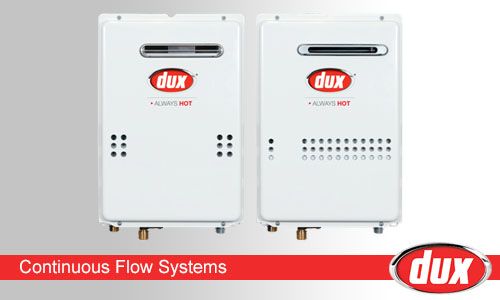 Purchasing a gas hot water unit
If you are in the market for a new hot water system do you know what type you are looking for? There are several different types on the market from various different brands such as Dux, Reece, and Rheem just to name a few. Below is a list of the most common types of gas hot water systems available by most leading brands.
Storage Hot Water Systems - These systems store hot water in a tank ready for use.
Instantaneous Hot Water Systems - These types of systems have a sensor which detects the water flow and ignites a burner which heats the water as it passes through a heat exchanger.
On-Demand Hot Water Systems - With these systems the water stays hot until the recirculations system is triggered. This can be triggered by the operation of either a hot water tap, sensor or switch.
Recirculation Hot Water Systems - These systems circulate water through hot water pipes and then back through a heating system until the water reaches a preset temperature.
The Everyday Plumbing team supply and install gas hot water systems from all the leading brands including:
Installing or upgrading to a Gas Hot Water Systems
When having a new gas system installed the work must be carried out by a licenced, professional plumber and gas fitter . Your gas fitter will provide you with a gas compliance certificate to certify that the installation complies with all the relevant standards and regulations.
Keep in mind: Gas fitting is a separate certified course that plumbers can undergo in order to do gas plumbing. Therefore all gas fitters are plumbers but not all plumbers are gas fitters.
Servicing and repairs of a gas Hot Water System
When it comes to the servicing or repair of your gas hot water system, it is always advised to get your local licenced gas fitter to do all of the services and repairs. The most common service that a gas fitter will perform on your system is checking or changing out the sacrificial anode as well as testing or replacing the temperature and pressure relief valve.
A sacrificial anode is a metal rod that's normally made from either aluminium or magnesium and coated in zinc. This rod is put inside the tank to attract minerals and impurities within the water which eventually causes rust and deterioration. The rod rusts and starts to deteriorate over time leaving your water tank in perfect condition. It is to be replaced on when necessary and is a part of the system service.
Temperature and pressure relief valves help to release the pressure of the water in the tank if it gets too high. These valves normally work automatically in but do require servicing and repair if not maintained correctly. The reason behind allowing the added pressure out is to prevent the tank from splitting or in some extreme cases, exploding.
Book your gas hot water service today
If you are looking for a new gas hot water system Everyday Plumbing can help with the supply, installation, service and repairs. Talk to one of our friendly staff today on 0406 400 200 or you can book online with our online hot water service booking form .
Frequently Asked Questions about hot water
Costs involved in buying and running various hot water systems
How Often Should I Arrange A Hot Water Service?
What size hot water system is right for me?