The most common hot water system
When you hear the term "Hot Water System" 85% of you will automatically be thinking of a storage type hot water system whilst 12% will be thinking of what a hot water system produces (ie. nice hot shower) and the last 3% will be thinking of something else entirely. This is prodominatley due to the fact that storage type hot water system is the most common hot water system in Sydney homes.
BOOK A HOT WATER SPECIALIST
Call us at 0406 400 200 or fill out the form and we will get in touch with you as soon as possible.
Storage hot water systems
Storage hot water systems come in either electric or gas depending on which you prefer and can have. Both types heat the water inside of their tank and maintain a constant water tempreture above 60°C in order to keep out legionella. In a study conducted by BIS Shrapnel in 2014 indicated that storage hot water systems make up for 60% of the hot water systems in Australia.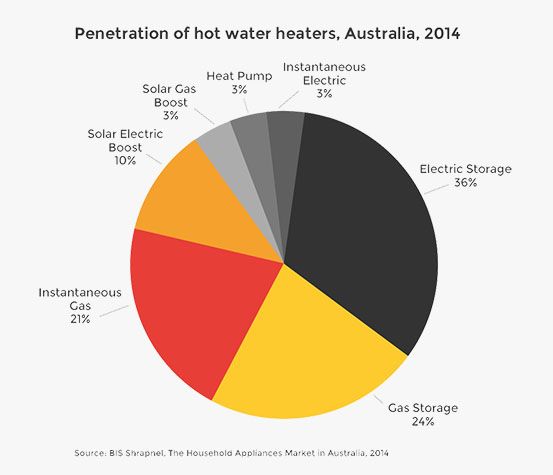 Penetration of types of water heating systems in Australia, as of 2014. (Source: EnergyRating.gov.au ).
One thing to note is that storage hot water systems are the cheapest to install and maintain although there is a catch which is the running costs of these systems will cost more than other hot water systems. This is due to the heating elements always having to work in order to maintain the water tempreture on or above 60°C.
Gas or Electric Hot Water Systems
When purchasing and installing a new storage hot water system you would want to know which of the two systems will better suit your home. Electric systems can pretty much work anywhere due to only requiring electricity to heat the water as where gas requires either natural gas or LPG in order to heat the water.
Electric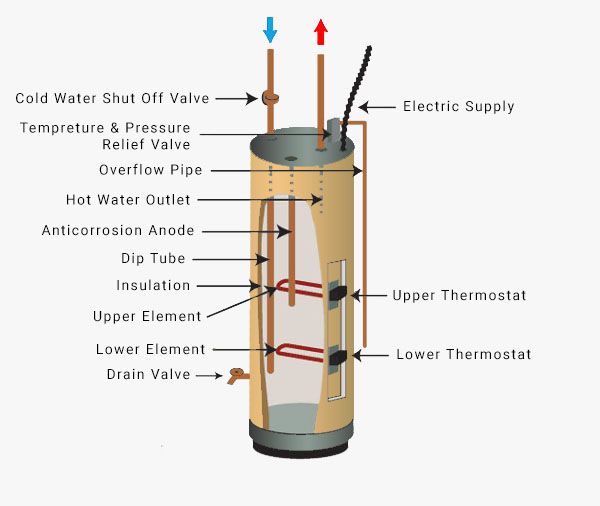 Electric hot water systems work by heating elements that are inside the tank. As the elements heat up they cause the water tempreture to also rise and thus gives you hot water.
Gas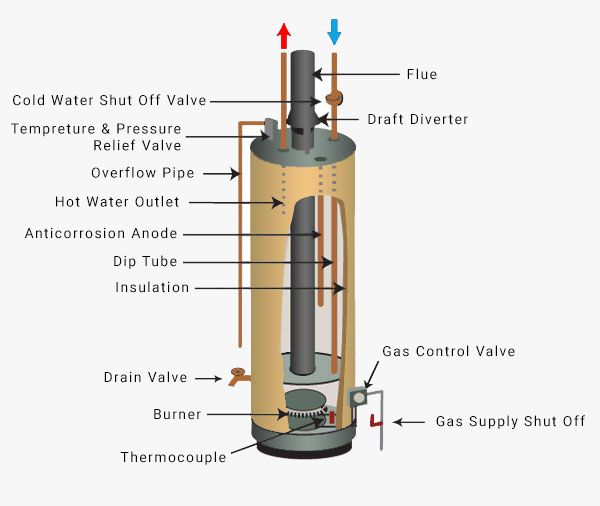 Gas systems work by a heating a burner which is situated underneath the tank. As the burner heats the bottom of the tank the hot water rises to the top which allows the whole tank to warm.
Both systems keep their water in an insulated tank which keeps the water hotter for longer. The element and burners just is to maintain the heat of the water ensuring that it never drops below the legal 60°C.
Storage Hot Water System Manufacturers
Due to storage hot water systems being the most commonly installed hot water system. All manufacturers make a version of storage systems. It is always recommended that you use reputiple brands when it comes to your hot water system to avoid future breakdowns which come from using no name manufacturers.

Storage Hot Water Systems - Name brand vs No name brand
Although at times brand name manufacturers have cheaper alternatives the brands themselves are often not far from the same pricing.
No name brands will use cheap inferior parts that aren't designed to keep up with everyday use thus will fail to work and are very unlikely to be able to be fixed with available parts.
Brands manufacture hundreds if not thousands of products monthly so are able to buy in bulk thus getting their parts cheaper. There is no quality loss and their systems also come with warranties.
When it comes down to it you may initially save $100 but you will pay more than that to keep a no name system alive and working. If you are confused or feel like you need more information contact us today and one of our friendly staff will be able to assist you with your query.
More Information on Storage Hot Water Systems?
If you would like more information on storage hot water systems you can read our post on how does a storage hot water system work . If you would like to have a new hot water system installed, a current system repaired or regular maintenance, contact us today and see how we can help you.
Frequently Asked Questions about hot water
Benefits of an Instant Gas Hot Water System
Costs involved in buying and running various hot water systems
How Often Should I Arrange A Hot Water Service?