Thermostatic mixing valve testing Sydney & Sutherland Shire
Everyday Plumbing and Gas Services hot water plumbers can take care of your routine TMV testing and maintenance requirements throughout the Sutherland Shire and Sydney's southern suburbs. Protect your family, patients, clients or students with routine thermostatic mixing valve testing.
BOOK TMV TESTING TODAY
Call us at 0406 400 200 or fill out the form and we will get in touch with you as soon as possible.
What does a TMV do?
Facilities have a duty of care to maintain a safe environment for all those using their property. This includes the delivery of hot water at a safe temperature, whilst reducing the risk of Legionella bacteria growth in water storage tanks. This can be achieved by installing and maintaining a thermostatic mixing valve (TMV).
The TMV blends hot water with cold to reduce the temperature of the water coming from the hot water system from the storage temp of 60℃+ to a much safer 50 or 45℃ outlet temperature. This measure helps prevent scalding and burns.
Thermostatic mixing valves are often installed in the following centres to ensure delivery of a constantly safe hot water supply:
Nursing homes
Child care centres
Shopping and retail centres
Respite facilities
Aged care facilities
Hospitals
Schools and after school care
Restaurant bathrooms and hand wash areas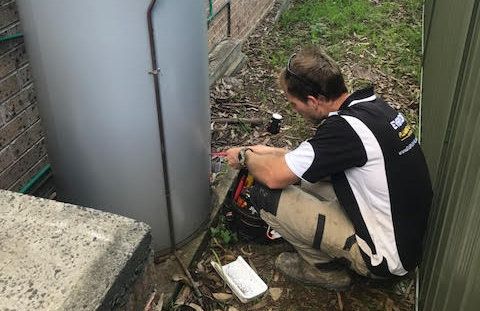 Thermostatic mixer valve maintenance
Due to the high-risk groups who use these facilities TMV testing and maintenance needs to be carried out regularly to ensure a consistent hot water temperature.
Required TMV testing schedule
Australian Standard AS4032.3 TMV testing requirements:
Thermostat and o-rings replaced every 5 years
Testing, inspection and maintenance every 12 months
Recommended TMV servicing and tests
Testing and maintenance of the TMV:
Cleaning debris out of the strainer
Check non-return valve operation
Check discharge temperature at the nearest outlet
Test hot and cold water shut off function
Replace (every 5 years) or lubricate (yearly) dynamic o-rings
Your local TMV test and servicing specialists Sutherland Shire & Sydney
For all your thermostatic mixing valve requirements in Sydney's south and Sutherland Shire give our plumbers a call on 0406 400 200 or complete our quick online plumber booking request today.
Frequently Asked Questions about hot water
Which hot water system is right for me?
How does an electric hot water system work?
Hot water systems - how do they work?